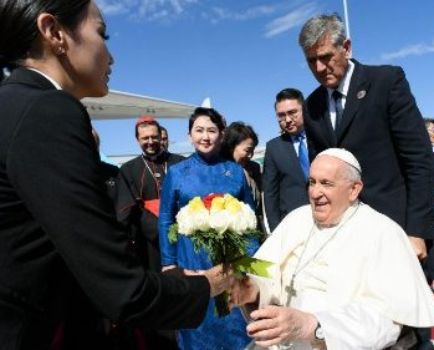 Pope Francis concludes his Apostolic Journey to Mongolia
Gifts of appreciation
On his final day in Monoglia, the Pope celebrated Mass in private at the Apostolic Prefecture, and expressed his gratitude to the staff and Cardinal Giorgio Marengo, the Apostolic Prefect of Ulaanbaatar, who has accompanied the Holy Father throughout his visit.
As a sign of his appreciation, the Pope gifted Cardinal Marengo a golden chalice.
And as a sign of his fatherly care, Pope Francis gave the Apostolic Prefecture a statue of St. Joseph.
A press release from the Holy See Press Office said the sculpture depicts the Saint as the silent guardian of our Lord. "Saint Joseph supports with his left hand the tiny Salvator Mundi in the act of blessing, while with his right hand he holds the staff that, according to the apocrypha, miraculously bloomed with lilies at the time when the priests of the Jerusalem Temple were to select the husband of Mary from among the unmarried descendants of the tribe of Judah."
Expression of God's mercy
The final event of his Visit to Mongolia was a stop at the "House of Mercy", a Church-run clinic for the poor and refuge for victims of domestic violence and homeless people.
The Pope inaugurated and blessed the charitable work, and expressed his gratitude to the Church in Mongolia for showing such great care and concern for people facing economic difficulty and marginalization.
"Generous service to our neighbours," he said, "has distinguished this vibrant portion of the people of God from its inception."